Skip to Content
6 Benefits of Adding Landscape Plantings at Home
6 Benefits of Adding Landscape Plantings at Home
A professional landscape design and installation can make a major difference to any residence.  Below are six benefits to adding landscape plantings at your home!
1. Curb Appeal
Landscape plantings can enhance the overall appearance of a residence by adding color, texture, variety, and seasonal color to the outdoor environment.  This can increase the aesthetic appeal of your residence and will help boost property value.
2. Increased Privacy
Landscape plantings can provide a natural barrier between neighboring properties to help increase the privacy desired for all residents.  Spending time outside on your patio, deck or even yard is a great way to spend the day.  However, while spending time outside not everyone wants to have their lives on full display.  Landscape plantings can not only help with this, but will add color and seasonality in ways nothing else can!
3. Reduced Energy Costs
Strategically placed trees and shrubs can help provide shade and reduce the amount of sunlight that enters a home.  This passive solar option can help reduce energy costs associated with air conditioning and cooling in the summer.  With the right plantings and design, it can also help with heating in the winter by allowing more sunlight to shine on the home while the trees have lost their leaves.  Again, this idea of passive solar energy savings is a great way to have your landscape support your beautiful home.
4. Habitat for Wildlife
Trees, shrubs, and other plantings can provide important habitat for birds, insects, and other wildlife.  By enhancing the biodiversity of the plants and landscaping at  home, you are making a more natural and peaceful setting for all!
5. Improved Air Quality
Plants are a natural filter.  Plants absorb carbon dioxide and other pollutants, and release oxygen through photosynthesis.  This can help improve air quality, while making the surrounding environment healthy for all residents.
6. Reduced Soil Erosion
Landscaping with the right plants can help reduce erosion by stabilizing the soil with roots and reducing the amount of runoff during a heavy rain.  This makes your gardens not only beautiful, but functional as well!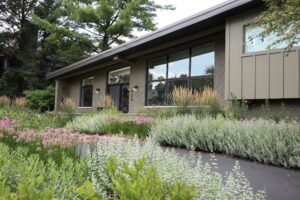 Featured Project Photos: Mid-Century Juxtaposition